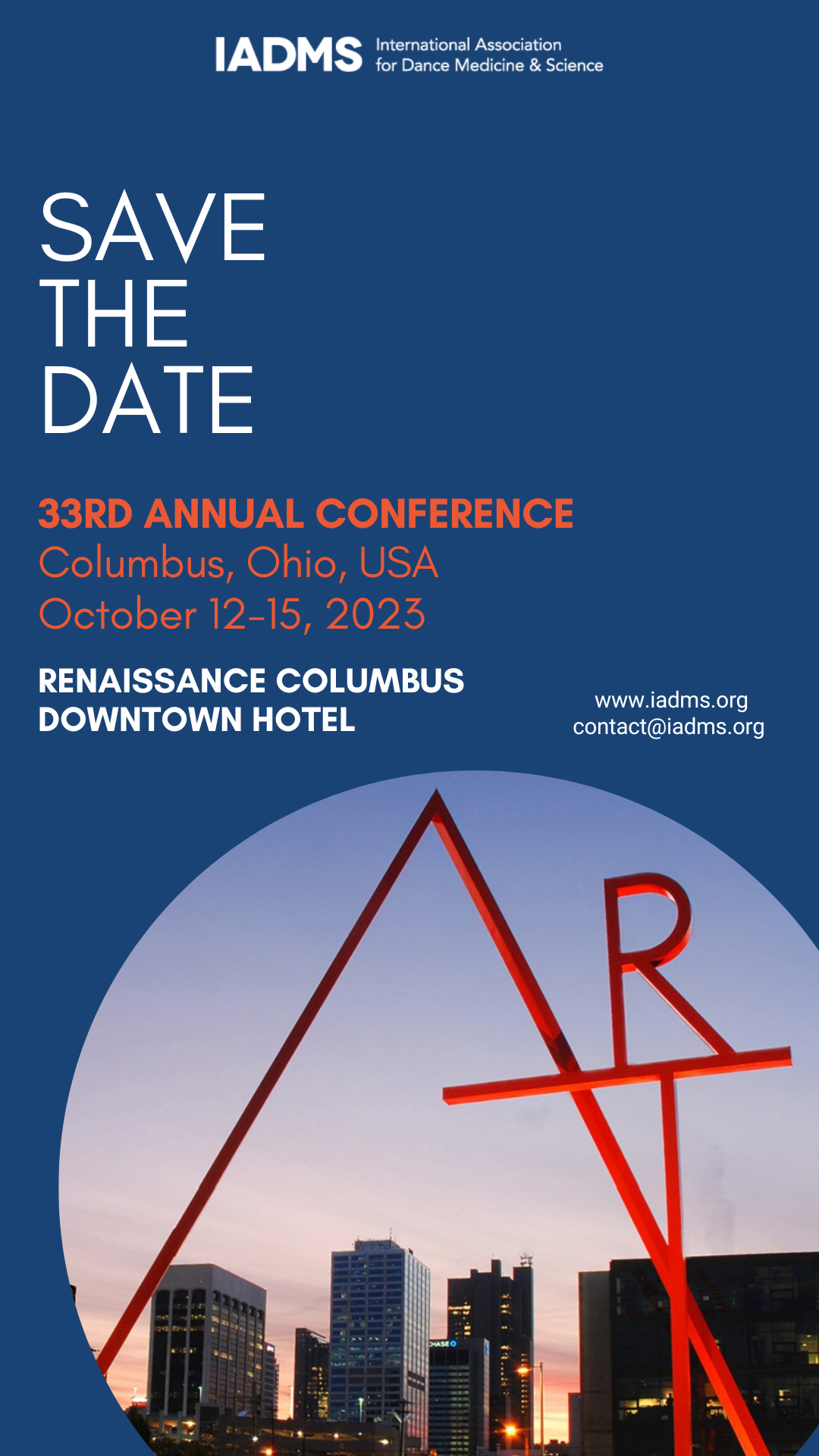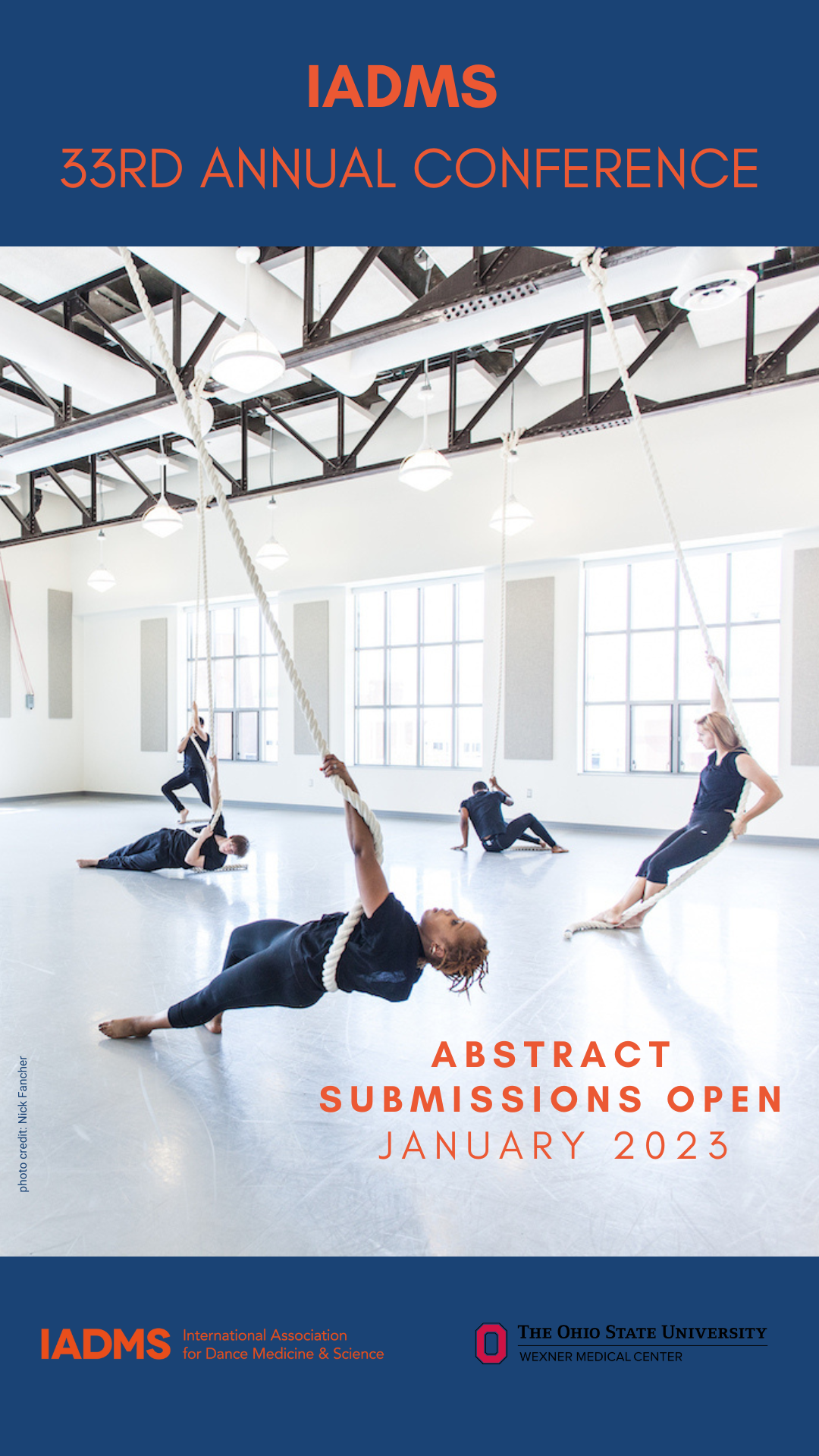 MAY   |   2023

May 8th - 18th, 2023   | 

 UNIVERSITY OF FLORIDA
Arts in Health Intensive 2023
ONLINE May 8th - 11th | IN PERSON May 16th - 18th
GAINESVILLE, FLORIDA, USA
For over 20 years, this world-renowned professional development program has supported creatives from all walks of life in exploring the roles of the arts in both healthcare and public health contexts. University of Florida's Center for Arts in Medicine is a multi-modal, interdisciplinary program that welcomes people from all levels of experience to learn how the arts can enhance health. This is an opportunity to learn, network, and grow professionally with the guidance of leaders in the Arts in Health field! Register by April 28. 
Fees: USD$1,000 - $2,000
May 13th - 14th, 2023   | 

 UNIVERSITY OF WOLVERHAMPTON
8th Annual Dance Medicine and Research Symposium
WOLVERHAMPTON, UK & ONLINE
The School of Sport is hosting a 2-day clinical and research workshop focused on current research themes and future collaborations in dance medicine and science. It will give attendees an opportunity to hear about contemporary practices and projects with opportunities to network and develop future partnerships. This will be a hybrid conference with in-person and online presentations and attendance. 
If you would like to attend, have research you would like to share, or would like further information please contact Professor Matthew Wyon at m.wyon@wlv.ac.uk.
Fees: £30/day or £55 for two days. Online £40 for two days.
May 17th, 2023   | 

 ROYAL ACADEMY OF DANCE

​
Spotlight on Mental Health with Steven McRae and Tim Arthur
LONDON, UK & ONLINE 
On Wednesday 17 May 2023, from 12:00-13:00 BST, the Royal Academy of Dance will be marking mental health awareness week with a conversation between Tim Arthur, RAD Chief Executive, and Steven McRae, Principal of The Royal Ballet and RAD Ambassador. The official theme for the awareness week this year, as set by the Mental Health Foundation, is 'anxiety'.
Tim and Steven will have an open and frank discussion about mental health within the dance world. Drawing on Steven's experiences over many years of huge highs and devastating lows, and Tim's experience as a psychotherapist, the two will look at the mental resilience needed to overcome adversity and maintain good mental health in the dance industry.
Fees: £7 Members In-Person, £12 NonMembers In-Person; £0 Members Online, £5 NonMembers Online
May 27th, 2023   | 

 IADMS EVENT
Student Networking Event: Health for Dancers
ONLINE - 2:00PM EST
This session is hosted by the IADMS Student Committee and is open to all active IADMS Student Members. Professionals in the field of dance medicine and science will lead a discussion on career opportunities and give students an opportunity to ask questions about their own career goals. 
For more information on how to register for this and other Student Committee networking sessions contact us at students@iadms.org. 
JUNE   |   2023

JUNE 13th - 16th, 2023   | 

DANCE/USA 
Dance/USA 2023 Conference
ATLANTA, GEORGIA, USA
Connect with your colleagues during timely panels, member meetings, celebrations of leaders in the field, performances, and more.  At the 2023 Conference, you will:
Hear from leaders from across the dance ecosystem. Participate in engaging and illuminating sessions and workshops that will help prepare you for a brighter, more resilient future.

Grow your skillset. Address shared problems and leave with practical tips and innovative ideas that will help advance your work. 

Expand your professional network. Connect with your peers and build new professional relationships. The Dance/USA Conference attracts a broad range of creative workers and dance professionals including independent artists, dance presenters, agents and artist representatives, education and service providers, executive directors, artistic directors, company managers, fundraisers, development and marketing staff, and more.
Learn more about the conference programming tracks and schedule!
JULY   |   2023

July 13th - 16th, 2023   | 

CENTER FOR DANCE RESEARCH (C-DaRE)
The 6th International Dance And Somatic Practices Conference 2023
COVENTRY, UK
C-DaRE is pleased to announce the dates for the next Dance and Somatic Practices conference which will take place at the Centre for Dance Research in Coventry, UK, from Friday 14th to Sunday 16th July 2023. The conference will be in person and include paper presentations, practice research sharings, workshops, and more from the international somatic community. There will be online offerings as part of the conference. Register by June 1 for Early Bird Discount. 
Fees: £185/200 In-Person; £92.50/100 Online. Daily rates are available. 
AUGUST   |   2023

August 19th, 2023   | 

IADMS EVENT
Student Networking Event: Presenting Student Research
ONLINE - TIME TBA
In this virtual session, there will be a discussion about the submission process to the IADMS Annual Conference, tips for presenting research, information about how to apply for the student research award, and an opportunity to practice presenting your research!
For more information on how to register for this and other Student Committee networking sessions contact us at students@iadms.org. 
August 28th, 2023   | 

SWEDISH SCHOOL OF SPORT AND HEALTH SCIENCES
Professional Development for Ballet Educators
STOCKHOLM, SWEDEN & ONLINE
After the first successful round in 2022, the Swedish School of Sport and Health Sciences (GIH) in Stockholm is proud to again offer two free-standing courses specifically for ballet educators:

- Anatomy and Physiology for Ballet Educators (course leader is Dr. Jane Salier Eriksson, Physiotherapist at the Swedish Royal Ballet and affiliated to GIH)

- Psychology for Ballet Educators (course leader is Dr. Sanna Nordin-Bates, Associate Professor at GIH)

Target Audience: ballet teachers, professional dancers about to become teachers, and other ballet educators such as choreographers, ballet mistresses/masters, managers, and artistic directors. Theoretical knowledge will be interwoven with practically oriented tasks and class discussions. Because they are mostly delivered online, they will be accessible even to those living far from Stockholm; however, a 2.5-day campus-based teaching session for each course helps to ensure that knowledge is better anchored in practice. This time on campus will also facilitate knowledge exchange between participants. Learn More Here.
Free for EU citizens; tuition fees for international students
SEPTEMBER   |   2023

September 9th, 2023   | 

MINNESOTA DANCE MEDICINE FOUNDATION MEDICAL CONFERENCE
BURNSVILLE, MN
This medical conference offers continuing education to health care providers with tangible information for immediate application. We strive to provide our attendees the most current evidence based approach to dancer evaluation, surgical intervention, and rehabilitation.

This conference is designed for orthopedic surgeons, primary care physicians, pediatricians, certified athletic trainers, physical therapists, physical therapist assistants, chiropractors, occupational therapists and other providers who are interested in dance medicine.

Medical professionals who attended past conferences have greatly benefited from additional educational opportunities, one-on-one interaction with the dance community, and by watching dancers learn injury prevention techniques.
LEARN MORE or contact info@mndancemed.org
Fees: $215-$335

September 29th - October 1st, 2023   | 

 NATIONAL DANCE EDUCATION ORGANIZATION
Teaching is Leading: Embracing Our Impact & Opportunity as Dance Educators
DENVER, COLORADO, USA
At NDEO's 2023 National Conference, Teaching is Leading: Embracing Our Impact and Opportunity as Dance Educators, we invite you to explore the diverse ways you lead in the classroom, the studio, your communities, and elsewhere. Regardless of which setting we teach in or where we are in our careers, dance teachers are constantly guiding, managing, developing, advocating, directing, creating, and communicating. We set the tone for our classes; we build relationships with students, parents, and administrators; we overcome obstacles for the sake of our programs; and we advocate for dance and demonstrate its tremendous impact through our teaching. This year in Denver we come together to explore and embrace our impact as leaders. Join us as we raise respect for the field of dance education and make the implicit explicit. If you are a dance teacher, you are a leader.
Click here for more information!
Fees: USD$175-495
OCTOBER   |   2023

October 12th - 15th, 2023   | 

 IADMS EVENT
IADMS 33rd Annual Conference
COLUMBUS, OHIO, USA
The IADMS 33rd Annual Conference will be held at the Renaissance Columbus Downtown Hotel, Columbus, Ohio, USA. This 4-day event will include the most up-to-date clinical and scientific research on dance medicine and science. Sign up for our mailing list to ensure you receive up-to-date information as it is released. 
Mark Your Calendars! Registration Opens June 15, 2023!
Questions? Email conferences@iadms.org 
OCTOBER   |   2024

October 17-20th, 2024   | 

 IADMS EVENT
IADMS 34th Annual Conference
RIMINI, ITALY
Save the Date to join IADMS at our 34th Annual Conference, to be held at the Palacongressi Rimini.
Questions? Email conferences@iadms.org 
ON-DEMAND

ONLINE COURSES 
(I)For Students (II)For Professionals (III)For Working Parents (coming soon)
Presented by Imogen Aujla, Dance in Mind offers online psychology courses for dance professionals and students to help deal with stress, create a better work-life balance, and cultivate optimism. Drawing on CBT and coaching techniques, the courses are a mix of webinar-style video tutorials and worksheets to help you put what you're learning into practice. Create positive change and enhance your well-being in just a few weeks - each course works brilliantly as a stand-alone but was designed to be taken together, and as a special introductory offer, you can buy all 3 courses for just £50.
ONLINE COURSES 
Presented by Nicky Keay BA, MA(Cantab), MB BChir, MRCP, these online courses provide dancers, teachers, and parents with the latest professional-level training and medical performance strategies on how young female dancers can reach their full potential in dance. The aim is for every dancer to achieve her personal best in a healthy and sustainable fashion. The online course also has a quiz and links to further resources.
Two courses are available:
Training as a High Performing Female Dancer - Team offers the course for a group of dancers, teachers, or parents. USD$199
Training as a High Performing Female Dancer offers the course for an individual dancer. USD$59
These courses are offered through Sports Ready Academy and are endorsed by the British Association of Sports and Exercise Medicine.